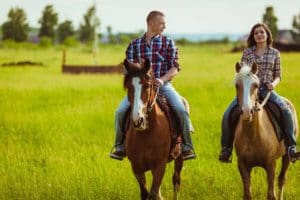 Experience a little bit of Oregon history and what it was like to travel the vast expanse of our state on the back of a horse.  Take a deep breath and smell the Juniper and Ponderosa trees surrounding you in the forest.  Let the sound of hoofbeats be music to your ears.  A day of horseback riding during your stay at Crystal Creek Mountain Lodge is a perfect way to relax and leave all your city cares behind!
It doesn't matter if you're an experienced rider or have always dreamed of trotting across a field on the back of a horse; several local businesses offer trail rides to suit horse lovers of all backgrounds.  Whether you're interested in a short one-hour trail, a full day ride, or an authentic cowboy experience, you're sure to find a venue nearby to make your dream a reality.
Bring your horse with you to enjoy more of the miles of trails throughout the Klamath Basin.  Crystal Creek Mountain Lodge has barn facilities including 4 stalls to lodge your horses and lots of room to park your horse trailers during your stay with us.
Our local equestrian enthusiasts take horseback riding in the Klamath Basin very seriously and have teamed up with state and federal park rangers to create some of the most beautiful and developed trail and camping facilities for horseback riding you've ever ridden.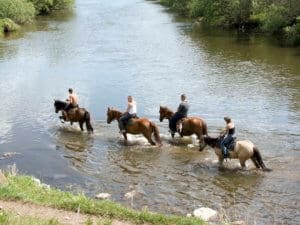 Horseback riders may enjoy a stroll along Oregon's longest linear park, the OC&E Woods Line State Trail.  This park is built upon the old rail bed of the Oregon, California, and Eastern Railroad and stretches 109 miles over pavement, gravel, dirt, and other terrain.  The park can be accessed in nearby Klamath Falls.
For a shorter journey, riders may experience Cherry Creek Trail, which is just 3 miles from the lodge. Nannie Creek Trailhead, Cold Springs, and the 7 lakes are very close to the lodge as well. Another option is the historic Pacific Coast Trail (PCT).  Access to the PCT is as close as the Summit Sno Park on Highway 140 just 21 miles from the Crystal Creek Mountain Lodge.
Due to local weather conditions, the best time to come horseback riding with us in from June through September.
Simply contact us at Crystal Creek Mountain Lodge and let us help you put together a horseback riding experience to make your stay with us truly memorable.