Enjoy the serene calm of gently paddling a watercraft through marshes and open lakes while enjoying scenic forests and mountainscapes.  Whether you like to fish or just birdwatch, the variety of waterways on our property and nearby lakes and streams make Crystal Creek Mountain Lodge a perfect place for your next retreat.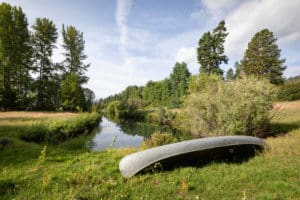 Guests at Crystal Creek Mountain Lodge can borrow one of our own canoes or kayaks to spend an afternoon drifting on the ponds just outside our back door.  The solitude will relax your mind while the chirping of songbirds will lift your spirits.  You are sure to meet your goals of achieving rest and relaxation!
To see more of the Klamath Basin area, you may enjoy a day of exploration on the Upper Klamath Canoe Trail.  To begin the journey, simply travel about 8 miles south to launch your canoe or kayak at the Rocky Point Day Use Area and Boat Launch.  Keep in mind that the average speed of travel in a canoe or kayak is about 2 miles per hour, so you will be spending a full and relaxing day on this 9.5-mile scenic water pathway.  For boaters, this same park offers a 10-mile loop filled with signs and interpretive displays about our National Wildlife Refuge.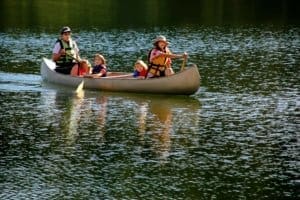 Or spend a day on the lake! The Upper Klamath Lake is the largest freshwater body of water west of the Rockies.  The lake is almost 30 miles long and 8 miles wide, creating a surface area of 91,000 acres of water!  Boating is allowed on the lake, but there are restrictions depending on the type of recreation you participate in.  For example, motorboat racing is only allowed in a small portion of the lake; and most of the remaining area of the lake has a speed limit of 10 miles per hour.
Enjoy a retreat into solitude with a visit to Crystal Creek Mountain Lodge.  The water here is always perfect!