While spring and summer is beautiful in Southern Oregon, you haven't experienced the majesty of the local area until you've visited us in the winter.  The Klamath Basin is home to some of the most beautiful cross country skiing and snowshoeing trails, and people of all skill levels will find the perfect place to give it a try.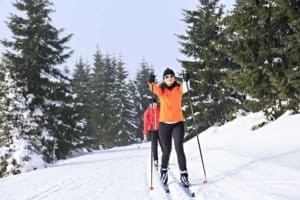 Simply step outside the doors of Crystal Creek Mountain Lodge and enjoy the scenery on our property.  Crystal Creek Mountain Lodge sits on acres of open meadows bordering ponds with scenic mountains in the distance.  A morning "walk" is the perfect way to start your day!
For beginners, Moore Park in Klamath Falls is a great place to try cross-country skiing and snowshoeing.  This 458-acre city park is home to soccer fields, tennis courts, and a disc golf field.  In the winter, snow fills the park and the roads are closed to motor vehicles.  This snowy, serene park landscape offers a variety of terrains to enjoy the sport while still being right in town.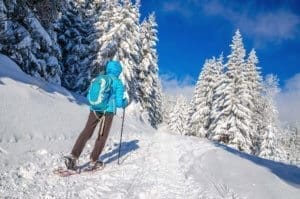 For more rugged cross-country skiing and snowshoeing, travel about a half-hour to the Lake of the Woods and Summit Sno-Park area.  You'll find miles of trails that will take you through forests of ponderosa pine, juniper, and western white oak.  Click here for a link with more information and trail maps.
Cross-country skiers and snowshoe fanatics especially love the opportunity to see Bald Eagles in the winter.  The Klamath Basin is home to hundreds of species of birds, and during the winter this is a favorite "rest-stop" for migrating Bald Eagles.  Between December and February, our region of Southern Oregon welcomes more Bald Eagles to our area than any other part of the lower 48.
Sound like fun?  Pack up your snow gear and come enjoy a stay with us at Crystal Creek Mountain Lodge!  We'll have the hot cocoa waiting for you.