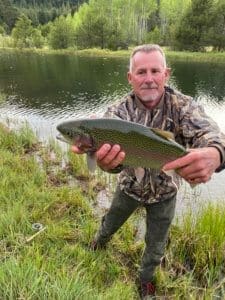 Crystal Creek Mountain Lodge is the perfect home base after a day of fishing.  Just travel a few miles down the road to enjoy a day at the lake, or simply take a short walk and sink a line in the Crystal Spring waterways on our property.
The nearby Upper Klamath Lake and its winding waterways are home to world-renown fishing.  Some people consider the lake to contain the best trophy-worthy rainbow trout for fly-fishing in the United States.  In fact, it's not uncommon for a fisherman to come home with a 20-pound Trout!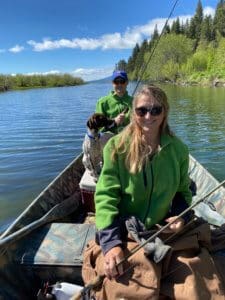 The Upper Klamath Lake's 61,000 acres of freshwater are home to several species of fish, with Trout and Yellow Perch, being the most prevalent.  And the fish in these waters are big!  You'll find some of the largest native Rainbow Trout in the world, the Redband Trout, swimming in these waters. During summer months, fly-fishing in the shallow waters is a favorite pastime of locals and visitors alike, while trolling lures and baitcasting seem to lead to more successful results during other months of the year.
Boaters can easily access the Upper Klamath Lake from a variety of nearby boat launches, and those with rafts and kayaks will enjoy the calm solitude of the waters.  Many of the lake's 100 miles of shoreline and the banks of surrounding waterways are accessible for fishing as well.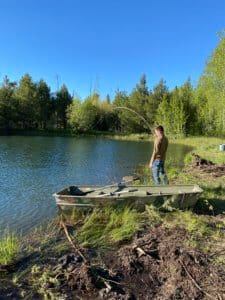 Why not plan a retreat for you and your fishing buddies to join us for a weekend?  Plus, you can cook-up your fresh catch in our state-of-the-art kitchen and serve it up on our back deck overlooking the wildlife.  It may be the best dinner you've ever had.
Before packing your bags to come fish with us at Crystal Creek Mountain Lodge, make sure you have your license ready to go!  Oregon requires all fishermen age 12 and older to hold a valid Oregon Fishing License.  These can be easily purchased online, by mail, via fax, or from any Oregon Department of Fish and Wildlife office or license issuing agent location.  Click here for more information and to purchase your license today!