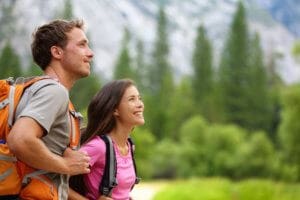 Have you ever climbed a volcano?  Or perhaps you'd like to take a long walk alongside rivers and lakes to get a close-up view of our wildlife?
Trails are everywhere in the Klamath Basin offering hikers a variety of landscapes to traverse.  Beginning hikers may enjoy easy day hikes with spectacular scenery while those with more experience may enjoy overnight camping on the Pacific Crest Trail.  We have something for everyone near Crystal Creek Mountain Lodge.
Due to weather conditions in the winter, many of the trails in the Klamath Basin area are best visited from June through October.
Here are just a few examples of hiking trails near Crystal Creek Mountain Lodge.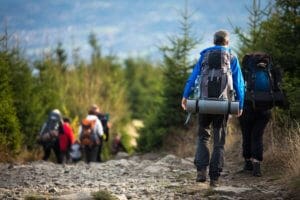 Just 3 miles from Crystal Creek Mountain Lodge is the Cherry Creek Trail.  This 11.6 trail is rated as "difficult," and has an elevation gain of 1,486 feet.  The trail brings hikers directly to Trapper Lake, a beautiful end to a challenging hike.  Make sure you bring along your camera!
A slightly easier hike is the Puck Lake Trail, a 4.5-mile trail rated as "moderate" with an elevation gain of 741 feet.  This trail begins about 8 miles from our Lodge and as the name implies, ends at Puck Lake.  People enjoy this particular trail for hiking, walking, nature trips, bird watching, and riding horses.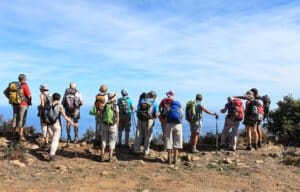 Want to enjoy an easy afternoon of walking and bird watching?  Try the Link River Trail located within walking distance of downtown Klamath Falls.  At a distance of 1.5 miles, this trail is rated as "easy."  It features many sightings of Barrow's goldeneye and hooded merganser ducks on the quiet waters of Upper Klamath Lake, and many other species of birds in the trees and wetlands along the path.
There are hundreds of hiking trails in Southern Oregon.  Click here for more ideas of places to hike in our area.
For more information about the Pacific Crest Trail, check out the page on our website here:  Pacific Crest Trail