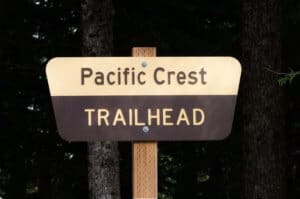 While you're visiting Crystal Creek Mountain Lodge, why not travel a short distance and check out the historic Pacific Crest Trail (PCT)?  Whether you want to hike a long-distance or just say you've "been there, done that," it's an interesting part of Western US History.
Oregon's portion of the Pacific Crest Trail can be traced back to Fred W. Cleator who drew plans for the Skyline Trail as part of his work with the Pacific Northwest Region of the Forest Service back in 1920.  The Skyline Trail traversed the State to the borders of Washington and California.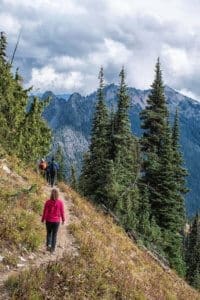 In 1932, Clinton C. Clark organized the Pacific Crest Trail Conference to develop plans to connect similar trails in Washington and California with the Skyline Trail to form one trail that would extend from our Nation's northern border all the way to the southern border.  In order to bring his dream to life, the Conference included a variety of groups including the Boy Scouts, YMCA, Sierra Club, Mountaineers of Seattle, California Alpine Club, and many more.  It took several years to complete.  A group of YMCA relay hikers successfully completed the entire Pacific Crest Trail hike in 1938 declaring the development of the PCT a success.
In our area, the Pacific Crest Trail comes up through California and intersects just south of us in Ashland.  The Trail extends northward to the west of Crystal Creek Mountain Lodge, connects to Hwy 140 between Fish Lake and Lake of the Woods, and then continues northward around the western summit of Crater Lake.  There are several stops along the Pacific Crest Trail where you can visit small segments of the Trail just for the day.
The PCT can be accessed through Cherry Creek, Nannie Creek, or Seven Lakes Trailhead that are all only minutes away, with and the Cherry Creek Trial Head less than a mile away from the Lodge.
For serious hikers, there are a number of PCT segments nearby: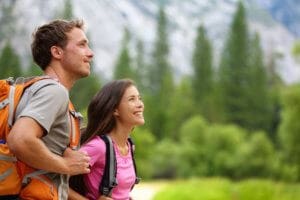 PCT OR Section B – From Interstate 5 (Just South of Ashland) to Hwy 140 (Fish Lake) – 51.8 miles, 7,683 ft. elevations gain.  This PCT segment is listed as difficult.  Dogs and horses are able to climb the trail with you.
PCT OR Section C – Highway 140 (Fish Lake) to Highway 138 (Cascade Crest) – 67.1 miles, 8,914 ft. elevations gain.   Also labeled as difficult, and dogs or horses are able to climb the trail with you.  The northern portion of this trail traverses the perimeter of Crater Lake's western summit.
The Pacific Crest Trail is best hiked from June through October.  Some areas require permits, and its best to check the Pacific Crest Trail Association's official website to make sure you are well prepared to hike the PCT.