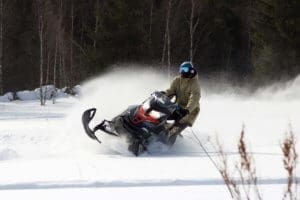 There's nothing like having the air whipping across your face, the sun hitting your cheeks, and viewing the beautiful snowcapped mountains in the distance.  The area surrounding Crystal Creek Mountain Lodge is perfect for snowmobiling, making this sport a popular pastime for residents and visitors to the Klamath Valley.
Whether you own your own snowmobile or just want to try it out, opportunities for snowmobiling on or near the Crystal Creek Mountain Lodge are limitless.  Several businesses in nearby Klamath Falls have snowmobiles for rent and hundreds of miles of groomed trails are just waiting to be explored.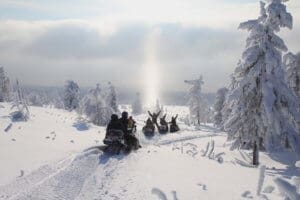 Crystal Creek Mountain Lodge is less than a mile away from the extensive trail system that extends northward to the Diamond Lake trail system and Crater Lake.  It also extends south towards Lake of the woods and the Great Meadow snow park.  The Lodge is also twenty minutes away from Annie creek snow park and twenty minutes away from the Great Meadow snow park.
At an elevation of 4,400 feet, the area is filled with Ponderosa Pines and enjoys snowfall from late November through February.  Take a rest from your adventures in the log cabin style warming shelter (open year-round).  Learn a little about Oregon history at the nearby Fort Klamath, a historic military outpost established on the Oregon Trail back in 1862.  Today, Fort Klamath is listed on the US National Register of Historic Places.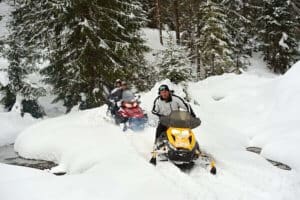 Head north on beautiful snowmobile trails past highway 138 to access Crater Lake National Park, or continue northward to Diamond Lake and Crescent Lake. Crater Lake has been known to receive over 500 inches of snow in the winter, making the landscape as serene as it is breathtaking.  If you have never seen the lake itself, you have no idea what you're missing!  Crater Lake is the deepest lake in the United States (1,943 feet).  The lake formed in a dormant volcano that erupted and collapsed 7,700 years ago.   Surrounding the lake are old-growth forests filled with 15 species of conifers that are home to black bears, mountain lions, elk, and spotted owls.
If a long trail isn't what you're looking for, Green Meadow may be just the place for you.  The Lake of the Woods and Fish Lake winter sports area is one of the most popular snowmobile areas in our region.  Take Highway 140 to easily access Green Meadow, a mile-long open area just perfect for snowmobile fun!
Whichever path you choose, snowmobiling at Crystal Creek Mountain Lodge is sure to be an amazing experience!