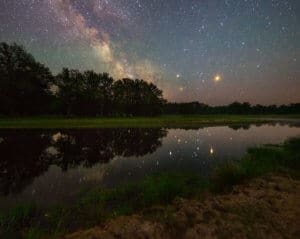 City lights hinder the view of the heavens, but the remoteness of Crystal Creek Mountain Lodge provides stargazers with a glimpse of an entire world beyond our galaxy.  Come join us and see why the Klamath Basin is one of the premier spots for stargazing in the United States.
You don't have to travel far to enjoy the night show.  Grab a blanket, a cup of hot cocoa, and enjoy quiet evenings on our deck taking in the breathtaking views of the Milky Way.  As the evening darkens, the universe comes alive with light and color.
Stars in our skies are easy to find and identify.  Once sunset occurs, simply look for a bright star in the west and you'll easily find Venus.  A few minutes later and you'll begin to see other stars join the western night sky such as Vega, Arcturus, Deneb, and Altair.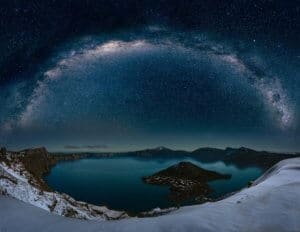 For those who prefer to venture out and see the stars in even more shining brilliance, Crater Lake is the perfect place to visit.  Just a half-hour away from Crystal Creek Mountain Lodge, this site is one of the National Park Service's Dark Sky Team's top 10 dark sky locations. Crater Lake's amazing landscape with its beautiful lake reflects clear night skies filled with stars as far as you can see.   The Rim Village sits at an elevation of 7,000 feet and has unobstructed views of the night sky. Because of its isolation and extensive miles of forests surrounding the lake, views of Venus and the Milky Way are typically clear and colorful to the naked eye.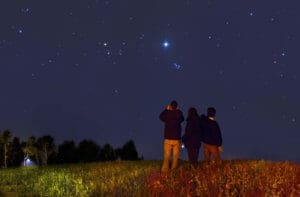 The best nights to view the stars in our area are those without a full moon, and obviously those without clouds.  During the summer, the warm weather enhances the transparency of the sky.  Have a telescope?  Pack it with you for an even closer look at the stars.
An evening stargazing is the perfect, serene ending to a day of adventures during your stay at Crystal Creek Mountain Lodge.